Painting with Clay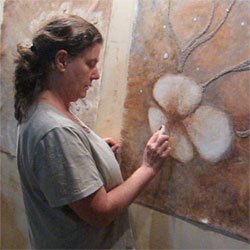 I developed the technique of painting with clay on canvas during the 16 years I lived in the rainforest of the Osa Peninsula in Costa Rica.
Experimenting with the different clays of the area I discovered that I could use them to paint on canvas. I recognized that I had tapped into the origins of paint itself, the same way that cavemen discovered they could use clay to paint on the walls of their caves.
Through years of collecting clay I've discovered that many of the colors are native to specific areas of Costa Rica. I go on clay hunting excursions all over the country looking for my little treasures. I also use different types of sand for texture and color, most of them come from the countless beautiful beaches in Costa Rica, and thanks to friends and family that bring me sand from their travels, I now have added to my collection sand from all over the globe.
Painting with clay is a very interesting technique because the organic materials used are as old as the planet itself. The clay is a constant surprise. It is so full of possibilities that there is always something new to learn. The process of finding the clay makes it exciting, one never knows which new shades might be found during the hunt.

Workshops
A 3 or 5 day immersion in the experience and the process of painting with clay on canvas: Collecting the clay and learning the technique, sketching in Nature and creating a work of art.

This is an individual course (max. 2 participants)
We will work the schedule according to your preferences.
Upon arrival plans will be made for the days ahead. I will show you the studio, give you a short introduction to the technique and the materials to be used.
3 day Workshop
Description:
First day: All day trip to the Orosi valley hunting for clay. We will also do some sketching and talk about the theme of your painting.
Second day: Selecting the size of your canvas. Instruction of the basic technique (4 hours approx.).
Third day: Deepening the knowledge of the technique.
price: $350 (materials included)
5 day Workshop
Description:
The same as the 3 day workshop (see above) plus:
incorporates the use of the sand (you are welcome to bring sand of your own)
Fourth day: half day hunting for clay and sketching on the mountains of Escazu
3 hours of painting and instruction
Fifth day: 4 hours of painting and instruction
price: $500 (all materials included)
On booking one of our workshops we offer 10% discount for your stay at