Biography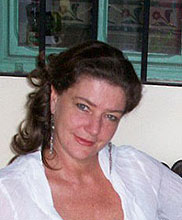 Costa Rican artist, Barbara Odio Yglesias (1961-), began her career in the Department of Bellas Artes at the University of Costa Rica, and developed her artistic vision while painting and working with clay in the rainforests of Costa Rica.
For 16 years she lived in the Osa Pennisula, on the Pacific southwest coast of Costa Rica (1984-2000), where the wild flora and fauna inspired her colorful early paintings. The series of acrylic paintings Visions of the Rainforest, reflect her immersion in the rainforest and the rural life of the Osa. The next period in her artistic development emerged in the volcanic landscape of lake Arenal (2001-2006) where she produced the series of paintings entitled Rebirths. In these oil-based paintings she explores the unconscious of the female psyche by re-inscribing icons such as the moon, serpent and flower - often associated negatively with being female - to recapture their power and emancipate the "New Woman" as well as herself. The "New Woman" emerges with a liberated vision of the old stereotypes that used to oppress her.
In 2011, O. Yglesias embarked on a new artist endeavor adding sand to her technique of clay painting—begun in the Osa in 1998- with the series entitled Earth Art. In this recent series she combines patterns found in nature with elemental shapes and pigments as a counter discourse to the progress-based modernity and urban life found in San Jose today.
Solo Exhibits:
2015 - Aeropuerto Internacional, VIP Santamaría
2014 – Galería Matices, Costa Rica Country Club
2013 - Ministerio de Cultura, Festival de Arte y Cultura, Escazú
2012 – Casa 76, Ciudad Colón
2012 – Galería de Viajes, San José
1998 - Universidad Para La Paz, Cumbre Mundial de la Paz y el Tiempo
Collective Exhibits:
2015 - II Bienal Rotaria, Casa del Artista